Summer Snacking: Nibbles, Dips, and Small Bites
High-energy eats for kids on the run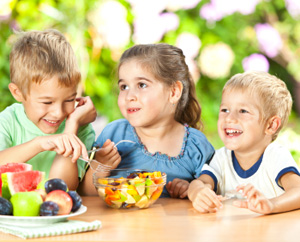 Chilled dips & blended drinks are a pleasing change of pace from the lunchbox doldrums
From the beach to the pool, camp to the playground, hiking trail to the Slip 'n Slide—summer means high-energy play for kids set free from school. Keep on hand a stash of cooling, nutritious snacks to satisfy ravenous appetites and picky palates.
Dip and sip
Chilled dips and blended drinks are a pleasing change of pace from the lunchbox doldrums.
Pineapple–yogurt dip: Mix together 2 tablespoons (29 ml) of pineapple juice concentrate, 1 cup (236 ml) plain yogurt, 1/8 teaspoon (0.61 ml) vanilla, and 1/2 cup (118 ml) finely chopped, fresh pineapple. Serve with sliced fruits or berries.
Peanut butter–orange dip: Mix 1/2 cup (118 ml) peanut butter with 2 tablespoons (29 ml) orange juice concentrate, 1 tablespoon (14.5 ml) brown sugar, and 1/3 cup (80 ml) orange juice. Run through food processor and accompany with crackers or sliced fruit.
Smoothies: Combine 1 cup (236 ml) of apple or orange juice with blueberries, raspberries, or strawberries, add ice, a touch of yogurt or silken tofu, and blend. For a creamier drink, replace juice with milk—regular, soy, or rice.
Stay cool
Entice kids to help you assemble these chilly treats.
Popsicles: Blend ice cream or frozen yogurt with milk, soy milk, or rice milk, and pour into popsicle molds. Use molds to make fresh fruit juice popsicles as well.
Fresh fruit salad: Cut up apples, pineapple, bananas, oranges, and berries. Throw in dried cranberries or raisins, and sunflower seeds or slivered almonds. Top with a dollop of yogurt.
Berry parfaits: Layer fresh raspberries, cherries, or blueberries with granola and yogurt or freshly whipped cream.
On the run
Traveling near or far by car, bike, train, or plane? Keep small hands busy with a selection of sturdy snacks.
Make your own snack mix with a combination of nuts, dried fruit, carob or chocolate chips, and cereal pieces. Try a savory selection of several cereals, pretzels, nuts, and rice crackers.
Dried fruit—banana chips, mango, and apple, papaya, pear, or peach slices.
Plain popcorn sprinkled with

brewer's yeast

or Parmesan cheese.
Baked pita or bagel chips.
Bake your own potato, beet, or sweet potato chips. Slice vegetables thinly, drizzle with olive oil, sprinkle with salt and pepper, and bake in oven at 350°F (177°C) until crispy.
Skewer cubes of firm cheese (cheddar, Swiss, Monterey jack), alternating with hunks of melon or apple.
Kathleen Finn is a Portland-area freelance writer and marketing consultant in the natural health industry who is an avid snacker, no matter what the season.
Copyright © 2019 Healthnotes, Inc. All rights reserved. www.healthnotes.com

Your Cart: (0) Total:
$0.00

Most Popular
Lose Weight & Keep It Off