A PureRXO online dispensary can earn you up to an additional $10,000 every month, without any of the aggravation of running a retail operation. If you're like most practitioners we know, you would welcome that extra revenue. Best news of all? It's free.
PureRXO can help you to create a simple, one-stop shop for your patients, saving you time, hassle and money. Your online store is open for business 24/7, 365 days a year, accessible from anywhere in the world.

Complete List of Features
For your patients
For you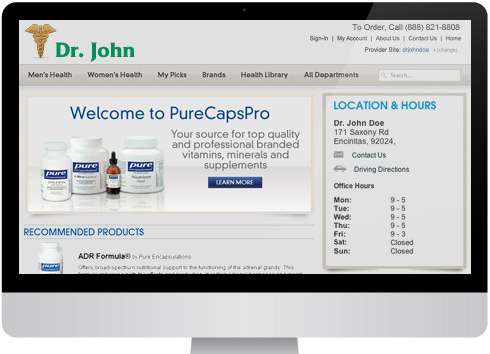 Fully customizable website offers seamless integration with your practice. Your online dispensary can help you reach new patients, and provides a powerful portal for patient care and communication. In minutes, you can add:
Your company logo
Your custom banner and
"About Us" section
Your office hours and location integrated Google Maps and driving directions


PureRXO stocks only the best professional-grade products so you can have confidence in the brands you recommend to your patients. Additionally, your dispensary is fully customizable so you can show only the products you want your patients to see.
Extensive inventory of nutritional supplements from leading professional brands
Easy to sort and browse, or customize to only those brands you prefer
Provide your own recommendations to patients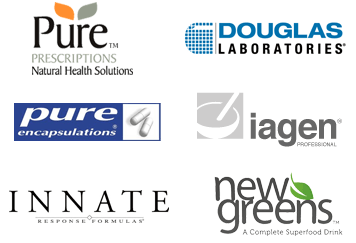 Our extensive health library gives your patients a trusted place to research their health conditions, learn about drug-nutrient interactions, and browse recipes and health tips.
More than 7,000 articles
Fully referenced
Detailed health information, drug and nutrient interactions, A-Z health conditions, recipes, newswire service and much more

Increase patient compliance and retention with a secure and private environment for follow-up care and patient reminders.
Easy and convenient way to stay connected with your patients
Provide detailed product and dosage recommendations
Robust product auto-delivery options
Discreet, HIPPA compliant messaging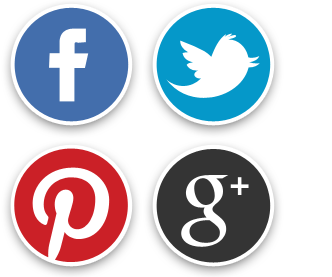 All PureRXO websites come fully equipped with social media tools for marketing, community awareness, and promoting your expertise. Make it easy for your patients to tell their friends, family and the world about your site.
Build your practice, create awareness and acquire new patients with word-of-mouth marketing
Integrated Facebook and social sharing tools to generate site traffic
Access webinars and best practices on how to use social media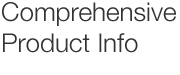 Every product has in-depth descriptions, and patients will enjoy the convenience of secure, easy-shopping tools, same-day shipping, and patient reminders for reordering.
Complete product descriptions, ingredients and supplement facts
Recently viewed items for easy shopping
Rapid, same-day Free Shipping on all orders over $49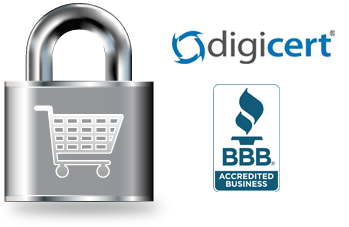 Your PureRXO online dispensary is turn-key, including our secure, fast online shopping cart.
Let us handle the headache of online payments, security and record keeping.
Your patients always get free shipping with PureRXO auto-delivery
Built-in, automated e-mails sent on your behalf to your patients that remind them when it's time to re-order their products.

Save money and valuable staff time by letting us do all the heavy lifting with the Pure RXO inventory management, restocking system, shipping, returns, and reorders.
We order and stock products for you
We handle all shipping and returns
We even provide ready-to-print mailers and cards for your patients to inform them of your site, and how to sign up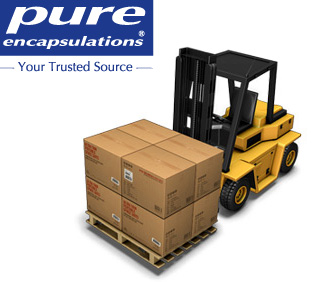 Easily track who is ordering from your site, and which products they're ordering, sales information, popular products, and more. We even make it easy to link with Google Analytics in order to track site views.
Comprehensive information on customer orders
Remuneration earnings snapshots
View top selling products, your referral network, and much more....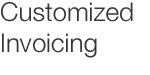 We even manage the invoicing and payments, fully customized with your information and logo for seamless integration with your practice.
Your address, logo, and branding appears on all invoices and email correspondence
Invoicing and payments are secure and prompt
You receive complete reporting on all sales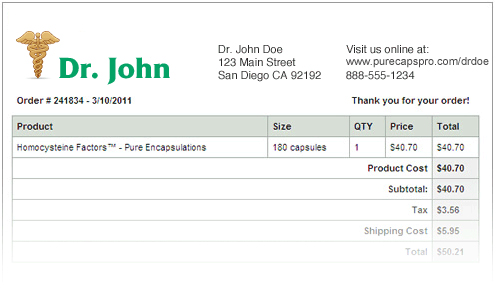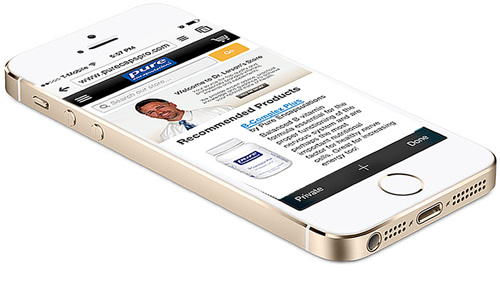 The majority of your patients access the Internet via a mobile smartphone. Having a mobile-friendly site makes the online shopping experience easier, which means your patients are more likely to purchase.
Easy patient access to browse, shop, and purchase from your dispensary

Social media equipped so your patients can quickly get the word out about your practice
Effortless browsing of 7,000+ scientifically referenced articles, recipes, and resource guides

Your patients will enjoy confidential, live US-based customer service support and secure online & phone ordering.
Your patients receive live help from our customer service and IT support teams located in our California office

Optional toll-free phone support option is available for your patients that choose to not order online
Family-run, employee owned business ensures your patients receive the highest level of service and care